FACULTY OF LIBERAL ARTS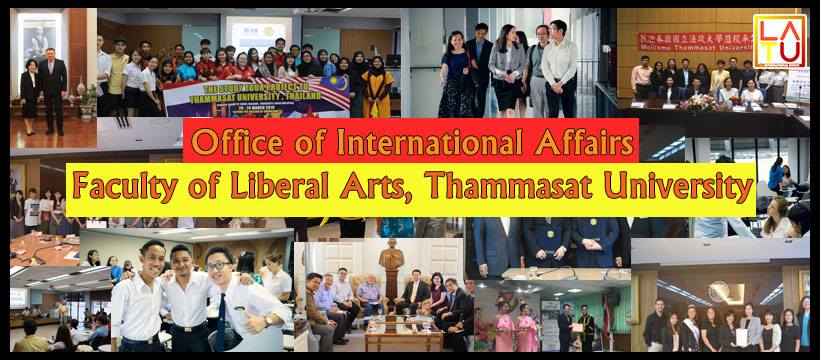 The Faculty of Liberal Arts was founded on August 15, 1961, by Professor Dr. Adul Wichiencharoen,
as the sixth faculty in Thammasat University. The radical idea behind the establishment was to promote
a form of liberal education by providing broad-based foundation courses in the fields of humanities,
social sciences, and sciences to all 1st-and-2nd-year Thammasat students before they entered their major
field of study. Because of its diverse disciplines and because all first-year students are presently required to
take basic humanities courses. Liberal Arts has become the second largest faculty at Thammasat.
As Thammasat is committed to being a university of and for the people, our mission is to develop and sharpen
students' understanding of individuals, societies, and cultures so that eventually they will grow to be
a valuable resource for our nation.
Our first campus, Tha Prachan, is located in Bangkok's old city on the scenic bank of Chao Phraya River
and is surrounded by many of Thailand's most famous cultural and historical landmarks. To meet the growing
demands on higher education, the faculty has expanded to the university's second campus, Rangsit Campus
(inaugurated in 1986) in Pathumthani on the outskirts of Bangkok, where most of the instruction
at the undergraduate level is now held, but Tha Prachan campus is still used for a number of academic programs.
Why Liberal Arts?
A Liberal Arts degree is designed to offer you a broad and deep education. Its general areas of study
include literature, history, languages, economics, social sciences, politics and so on. While it does
not train you for a specific career, a degree in Liberal Arts gives you many abilities that employers value.
These include:
- Strong communication and critical reasoning skills.
- Innovative and independent thinking.
- Knowledge of a wide range of subjects, including cultures other than your own.
- The capacity to learn new skills throughout life.
The knowledge and skills that you gain from Liberal Arts education will enable you to form your own
well-grounded opinions and discuss just about anything, with anyone. In addition, you will be
well-prepared for the quickly changing and dynamic contemporary work environment, within which
you are expected to continue to be a life-long learner. Without doubt, these are exactly the qualities
which most employers are looking for.
OUR MISSION

1. Offering undergraduate and postgraduate programs in humanities and social sciences, with emphasis
on producing graduates with wisdom and integrity.
2. Focusing on extensive, innovative and impactful research, thus creating new knowledge.
3. Dedicating itself to public service and civic engagement through utilization of professional expertise that
contributes to the betterment of community, to human resources development of the country, and to increasing
educational opportunity of less privileged groups.
4. Fostering study in arts and culture as well as promoting and disseminating the artistic and
cultural heritage of the country.
CONTACT INFORMATION
OFFICE OF INTERNATIONAL AFFAIRS
FACULTY OF LIBERAL ARTS, THAMMASAT UNIVERSITY
2 PRACHAN ROAD, BANGKOK THAILAND 10200

TEL.: +662 613 2601-2
FAX: +662 623 5097
EMAIL: LARTS.OIA@ARTS.TU.AC.TH
FACEBOOK : LATU INTERNATIONAL OFFICE